Stake Big Wins - Top 3 Big Wins at Stake.com
See the big wins at Stake
Learn what has worked
Stake

Casino has some of the largest payouts of any online casino
Most online casinos are not as exciting as
Stake.
The firm captures the imaginations of
millions
of recreational gamblers across the World. In this article we are going to look at the 3 biggest wins at
Stake.com
.
Reality Check

Win 1: Drake wins and loses $25m

Win 2: Trainwreck wins 524.7 BTC

Win 3: Kefun wins 5 Million Multiplier
Reality Check
We recommend you play at

Stake

, but you should always remember online casino games have random outcomes, and that your return depends on chance and the game rules. Some games offer you more of a chance of winning as the house edge is lower, and some games offer you lower chances of winning. When you play repeatedly the chances are you will always lose your money so you have to be careful when playing at an online casino to only play with the money you can afford to lose. Online casinos celebrate winners because most players like to think they will also be a winner, but you have to remember that it is more likely that you will lose than win. That said, here are the three biggest wins at

Stake.

com
Win 1:
Drake

wins and loses $25m
Canadian rapper
Drake
regularly streams his sessions at
Stake
casino.
Drake
is well known as a gambler and he is partnered with this reputable
crypto
currency casino. At his most recent stream "
Stake vs Drake
2" he was playing
roulette
when he won (and lost) $25m.
Drake
won two big amounds $12.96 million and $11.95 million, growing his balance from $8.5 million to $27.2 million before he ended the event with just $1,879 left.

Win 2: Trainwreck wins 524.7 BTC

The well known Twitch online casino streamer Trainwreck players regularly at Stake online casino. In March 2022 he played an Egyptian slot game and won 524.7 BTC (approximately $13m at the time of his win). Trainwreck bet 0.02332 BTC and achieved a multipler of 22,500x.
Win 3: Kefun wins 5 Million Multiplier
Kefun is a
stake
sponsored streamer and bet $0.05 and won $238,870.92 in October 2021. This is one of the largest wins we've seen at
Stake
.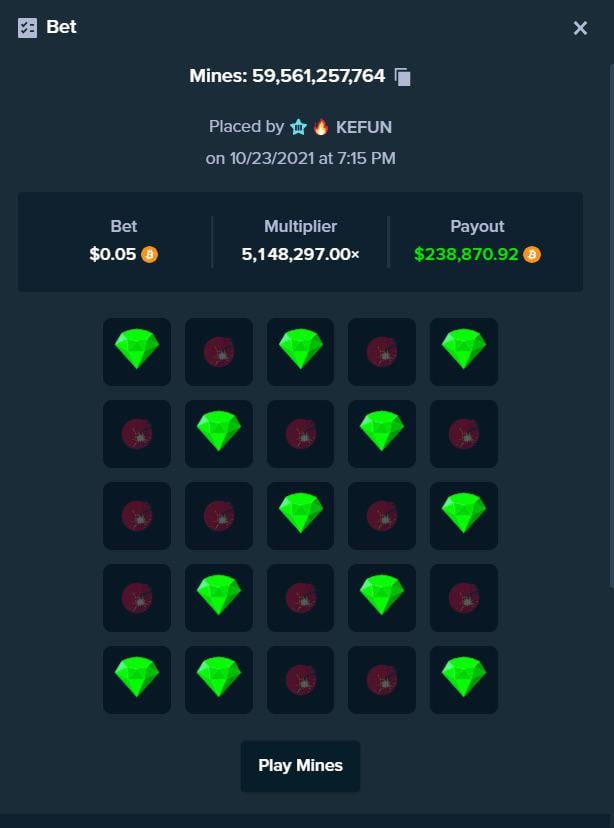 If you bet at
Stake
have fun and best of luck!