Drake wins $1.4m on UFC bet at Stake.com
Drake wins big on UFC bet
The megastar bet $2.3 million on both Molly McCann and Paddy Pimblett to win
He landed a $3.7 million return for the bet
Paddy Pimblett helped land Drake a huge winning bet
Megastar

Drake

achieved an incredible $3.7 million return on a $2.3 million UFC bet this weekend...but then the fighters asked for Rolex watches!
Drake
bet on both Molly
McCann
and Paddy
Pimblett
winning their UFC fights at
Stake
this weekend.
This was the incredible bet $2.3m on both
McCann
and
Pimblett
to win at UFC London.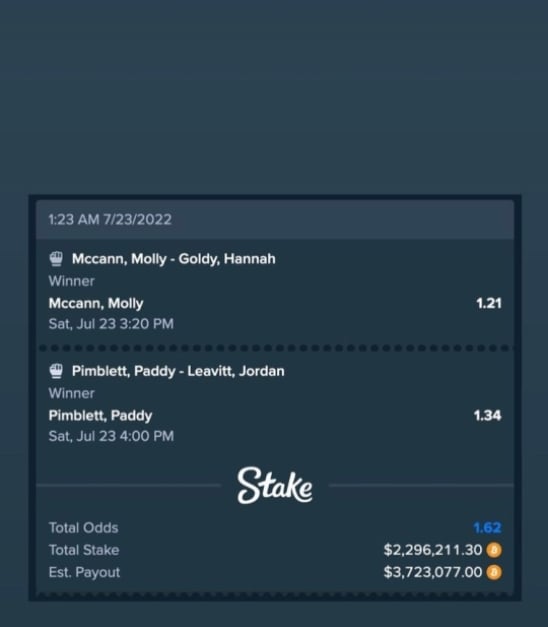 McCann
landed a first round win over
Hannah Goldy
to get the bet off to the perfect start, while
Pimblett
won by submission against
Jordan Leavitt
in round two.
Drake
has turned almost $2.3 million into $3.7 million.
After the fights,
McCann
posted a video on her Instagram accompanied by
Pimblett
and made a request to
Drake
for something in return for helping him land his big win.
"
Drake
we have just broken your curse lad. Can I have a Rolex please?" said
McCann
, before
Pimblett
- appearing on the video - added "Champagne Papi come on what are we getting for that?"
Drake
was quick to respond, adding the video to his own Instagram story. He asked the betting company he used to make his selection, Stake, to make it a reality: "@stake Rollies for Meatball and the Baddy," he wrote.
Pimblett
later added: "Molly sent him a video right after it on Instagram and he said he was going to give us both a Rolex, so we are swimming it."
Paddy Pimblett on Mental Health
Pimblett
dedicated his win to four-year-old Lee Joshua Hodgson, who recently passed away from complications due to
ARMS
, a soft tissue disease.
"I want to dedicate this fight to little baby Lee," said
Pimblett
. "He's a little warrior. More of a fighter than any of us will ever be."
Following that,
Pimblett
delivered a heartfelt message abour men's mental health, after the death by suicide of a close friend.
He commented: "I woke up on Friday morning at 4am to a message that one of my friends, back home, had [died]. This was five hours before my weigh-in. So Ricky lad, that's for you.
"But, there's a stigma in this world that men can't talk. Listen, if you're a man and you've got weight on your shoulders, and you think the only way you can solve it is by [suicide], please speak to someone, speak to anyone. People would rather... I know I'd rather my mate cry on my shoulder than go to his funeral next week.
"So, please, let's get rid of this stigma and MEN, START TALKING!"